"Find freedom from anxious striving and fuel for living loved and transformed."
---
This is not a call to get busy; it's a call to get discerning.
In this hustling, image-forward age of opportunity, women are more anxious than ever. Despite all the affirming memes and self-reflections that dominate social media feeds, approval and worth often seem assigned to what we do rather than who we are. And we end up constantly feeling behind, lacking, and like we're failing—at home, at work, with friends, with God.

Have you ever felt like you're not enough? With so many opportunities and resources available to us, why does it feel like we're lacking? Perhaps it's because we are. Without Christ, we're not enough, and if we measure ourselves by popular opinion, earthly standards, religious ideals, or dream-making aspirations, we'll come up short every time.

Today's self-improvement narrative has left so many women exhausted, worn out, and wondering why life feels like an anxiety-ridden, never-ending battle for satisfaction.

In this six-session video Bible study, Wall Street Journal bestselling and award-winning author Ruth Chou Simons reminds us that the answer we're looking for isn't the latest and greatest strategy for self-improvement; it's the transforming gift of amazing grace. You'll walk away understanding more fully that the generous, unmerited favor of God is the means to the welcome, love, and approval you so deeply long for.

The When Strivings Cease Bible study guide includes individual access to six streaming video sessions, warm-up questions, group discussion, and personal reflection material.

Check out the Bible study trailer below!

---
Get 30% off on When Strivings Cease! No code necessary.
---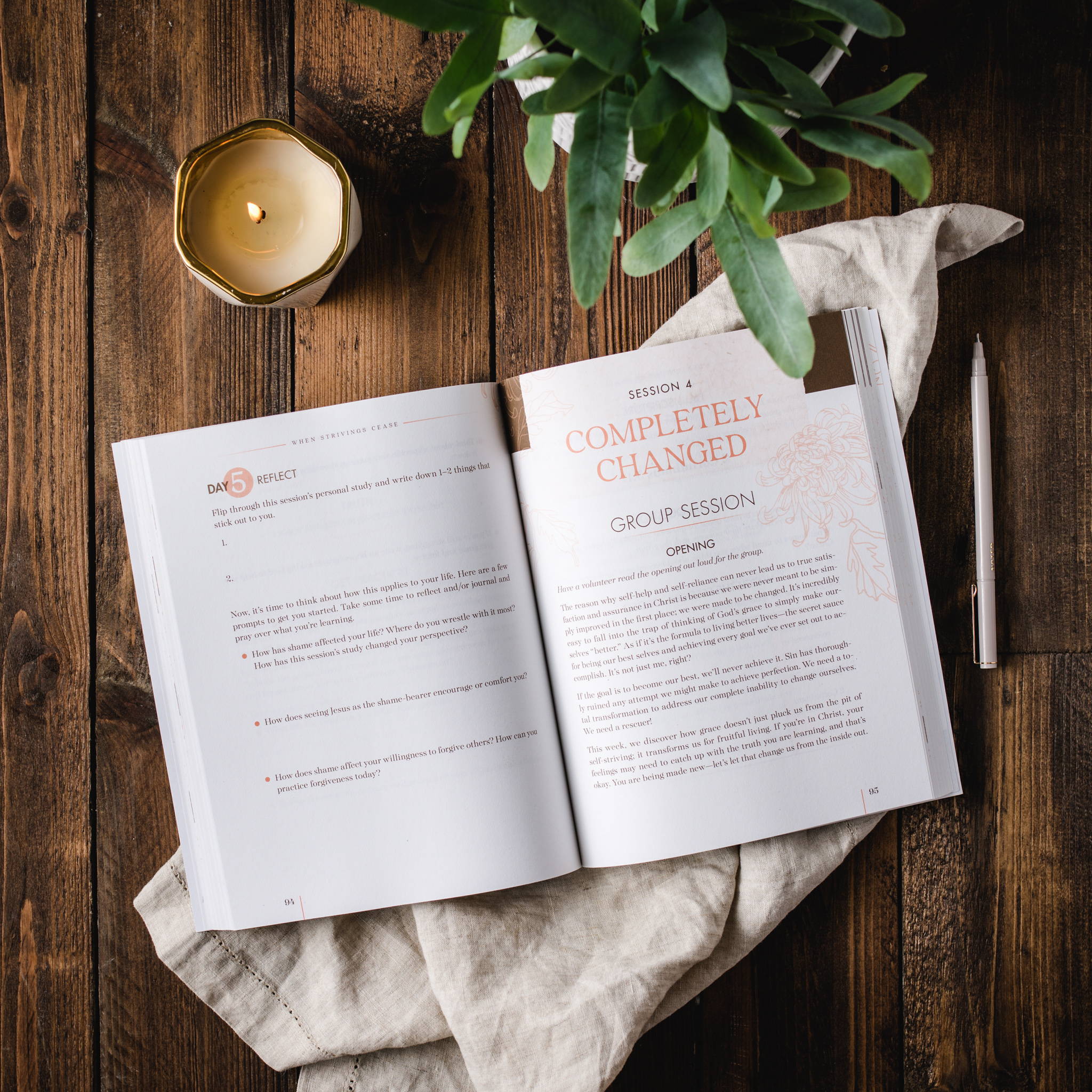 ---
Ruth Chou Simons is a Wall Street Journal bestselling and award-winning author of several books, including GraceLaced, Beholding and Becoming, and Foundations. She is an artist, entrepreneur, and speaker, using each of these platforms to spiritually sow the Word of God into people's hearts. Through her online shop at GraceLaced.com and her social media community, Simons shares her journey of God's grace intersecting daily life with word and art. Ruth and her husband, Troy, are grateful parents to six boys—their greatest adventure.